TM Capital Advises Canadian Hospital Specialties in its Sale to Cortec Group
November 2013 | News & Press
TM Capital served as exclusive financial advisor to Canadian Hospital Specialties ("CHS") − a leading manufacturer, marketer and distributor of specialty medical and surgical devices − to the Cortec Group. By focusing on "outcome-driven" devices where safety, quality, complexity and customization are crucial, CHS has positioned itself as a leading provider of medical devices to virtually every hospital in Canada. TM Capital leveraged its deep knowledge and experience in the medical device sector to maximize value for the shareholders of CHS, which included the private equity firm Hammond Kennedy, Whitney & Co., Inc. and senior management led by the Enns family, who founded the company in 1967. This marks the eighth transaction TM has completed on behalf of HKW, with whom we have enjoyed a relationship spanning over 20 years.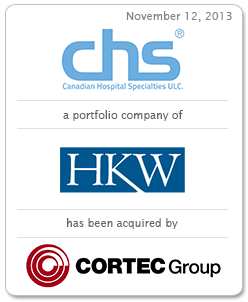 – 
CHS manufactures and sells its own MED-RX® branded products and markets devices under exclusive relationships with third party OEMs
– CHS' broad portfolio of products, strong reputation for customer service and decades long relationships with decision makers at Canadian hospitals have earned the company a leadership position in its chosen markets
– Cortec Group, a private equity firm with more than $1 billion of capital under management, invests in middle market healthcare, consumer, and specialty products businesses
– Cortec Group recapitalized CHS along with senior management led by the Enns family, the company's founders
For more information, please visit www.tmcapital.com/transactions.
What Our Clients are Saying

"From the outset of the transaction, TM Capital understood the value drivers for CHS and positioned the company in the marketplace to drive a remarkable outcome for the shareholders of CHS. TM's industry expertise, market knowledge, collaborative style, attention to detail and senior focus combined to create a very competitive process. We appreciate our longstanding relationship with TM and their commitment to the highest standards offered in the investment banking community."



– 

Glenn Scolnik, Chairman, CHS and Chairman, HKW

About TM Capital
TM Capital Corp. is a partner-owned investment banking firm based in New York, Boston and Atlanta, which has completed over 250 transactions with a combined value in excess of $13.5 billion.  Since 1989, we have advised clients navigating a full range of critical transactions, including complex mergers, acquisitions, debt and equity financings, minority and majority recapitalizations, restructurings, and advisory services including takeover defense, fairness and solvency opinions, valuations, as well as litigation support.  We have built deep industry expertise in key sectors and our team regularly publishes research highlighting current and emerging trends in targeted industries and markets.  TM Capital is a member firm of M&A International Inc., the world's leading alliance of mid-market investment banks with over 600 M&A professionals in 41 countries.  Members have closed over 1,300 transactions totaling more than $75 billion in value over the past five years.