TM Capital Advises WestRock in Acquisition of SP Fiber
October 2015 | News & Press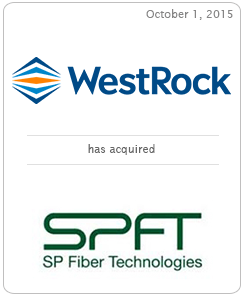 TM Capital served as financial advisor to WestRock Company (NYSE:WRK) in its acquisition of SP Fiber Holdings, Inc. for $288.5 million. This transaction balances the fiber mix of the WestRock mill system, diversifies WestRock's product offering and improves SP Fiber's cost structure while generating significant synergies.
SP Fiber is a producer of recycled containerboard and kraft and bag paper with mills located in Dublin, Georgia and Newberg, Oregon
WestRock also acquired SP Fiber's 48 percent interest in Green Power Solutions of Georgia, LLC (GPS); GPS is a renewable energy joint venture providing electricity to Georgia Power and steam to the paper mill in Dublin
WestRock, which was formed by the merger of MeadWestvaco Corp. and Rock-Tenn Co. in July 2015, is a leading global packaging company
WestRock has 275 operating and business locations and 42,000 team members spanning North America, South America, Europe and Asia and has a market capitalization of approximately $14 billion
About TM Capital

TM Capital Corp. is a partner-owned investment banking firm based in New York, Boston and Atlanta, which has completed over 275 transactions with a combined value in excess of $17 billion. Since 1989, we have advised clients navigating a full range of critical transactions, including complex mergers, acquisitions, debt and equity financings, minority and majority recapitalizations, restructurings, and advisory services including takeover defense, fairness and solvency opinions and valuations. We have built deep industry expertise in key sectors and our team regularly publishes research highlighting current and emerging trends in targeted industries and markets. TM Capital is a member firm of M&A International Inc., the world's leading alliance of mid-market investment banks with over 650 M&A professionals in 42 countries. Members have closed over 1,400 transactions totaling more than $75 billion in value over the past five years.