TM Capital – A New Era Begins
November 2023 | News & Press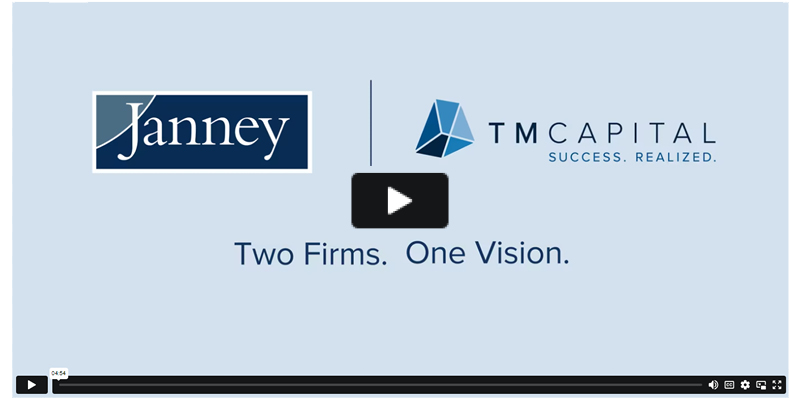 TM Capital – A New Era Begins
On November 8, 2023, TM Capital announced that our firm has agreed to be acquired by Janney Montgomery Scott.  Attached is the press release describing the transaction, and the following link will take you to a short video conversation in which Joe Culley, Janney's Head of Capital Markets Group and Jim Grien, TM Capital's CEO discuss transaction highlights: Two Firms. One Vision
This is an extraordinary moment in TM Capital's rich history.  After 34 years as an independent, partner-owned firm, the time is right for TM Capital to join forces with Janney.
By partnering with Janney, TM Capital will dramatically expand the suite of resources we bring to bear on behalf of our clients to include Janney's first-class capital markets and wealth management capabilities.  We also gain valuable new domain expertise by virtue of Janney's nationally-renowned financial institutions investment banking team.   At the same time, we join forces with a 190+ year old, highly-respected firm committed to the same cultural and client-facing cornerstones that define TM Capital.
This is an exciting time for all of us at TM Capital.  The transaction is anticipated to close before year end, following regulatory review.  On that closing date, we will commence a new era defined by a powerful roster of new resources to serve our clients, extended industry reach and enhanced infrastructure to support accelerating growth.
For our clients, counterparties and friends, nothing will change.  We will maintain the TM Capital brand. Our physical footprint spanning Atlanta, Boston and New York will remain intact.  Our industry practices will continue to be anchored by domain expertise and guided by 17 committed partners supported by a cadre of emerging leaders.  We will further advance our ongoing generational transition as Jarrad Zalkin joins Jim Grien to co-lead our business under the Janney umbrella.
Most importantly, our relentless focus on client care will continue unabated, as will our tireless pursuit of extraordinary outcomes.
Click here to learn more about Janney