TM Capital Advises Crane Rental in its Sale to Maxim Crane
May 2015 | News & Press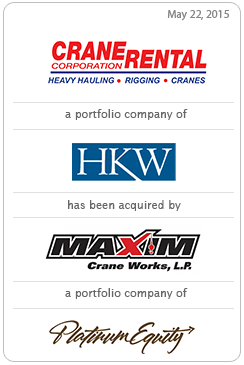 TM Capital is pleased to announce that we served as exclusive financial advisor to Crane Rental Corporation in its sale to Maxim Crane Works L.P., the largest provider of comprehensive lifting services in the U.S. and a portfolio company of Platinum Equity. Crane Rental, a portfolio company of Hammond, Kennedy, Whitney & Company, Inc. (HKW), is a leading provider of operated and bare crane rentals, heavy hauling and specialized rigging solutions. The sale of Crane Rental marks TM Capital's tenth completed transaction with HKW and its affiliates spanning a relationship of over 25 years.
Crane Rental, headquartered in Florida, serves a wide range of industrial and commercial end markets and boasts an extensive blue chip customer base including General Electric, Siemens, Southern Company and The Walt Disney Company
Maxim Crane Works has one of the largest, most modern fleets of mobile cranes in the world and provides risk management, safety and insurance programs that are unparalleled in the industry
HKW, with more than a century of excellence as its foundation, is one of the nation's oldest private equity firms
Platinum Equity, a global private equity firm headquartered in Los Angeles, CA, manages over $6 billion of assets
What Our Clients are Saying
"We are very happy to have been a partner with Crane Rental since 2008. The management team's leadership through the recession and subsequent economic expansion is a testament to their expertise in the crane industry. For over 25 years we have enjoyed working with the TM Capital team. Through their capable guidance and attention to detail, we were able to complete another successful divestiture for HKW and find a partner for Crane Rental that best positions them for continued success."
-Jim Snyder, Partner, HKW, Chairman, Crane Rental
About TM Capital

TM Capital Corp. is a partner-owned investment banking firm based in New York, Boston and Atlanta, which has completed over 275 transactions with a combined value in excess of $17 billion. Since 1989, we have advised clients navigating a full range of critical transactions, including complex mergers, acquisitions, debt and equity financings, minority and majority recapitalizations, restructurings, and advisory services including takeover defense, fairness and solvency opinions and valuations. We have built deep industry expertise in key sectors and our team regularly publishes research highlighting current and emerging trends in targeted industries and markets. TM Capital is a member firm of M&A International Inc., the world's leading alliance of mid-market investment banks with over 650 M&A professionals in 42 countries. Members have closed over 1,400 transactions totaling more than $75 billion in value over the past five years.