TM Capital Advises NPG, Inc. in its Sale to RockTenn Company
January 2014 | News & Press
TM Capital, a leading middle market investment banking firm with offices in New York, Boston and Atlanta, served as exclusive financial advisor to NPG, Inc. ("NPG") in its sale to RockTenn Company (NYSE: RKT), a Fortune 500 provider of high value paperboard, packaging and marketing solutions. NPG, a portfolio company of Wingate Partners, provides market-leading solutions that enable the world's largest retailers and brands to design, create and distribute dynamic in-store Point-of-Purchase and Out-of-Home promotional and advertising materials. This acquisition will substantially augment RockTenn's retail displays business and will enable RockTenn to leverage NPG's proprietary digital asset management technology across its platform.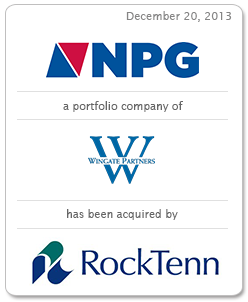 – Headquartered in Chattanooga, Tenn., NPG employs approximately 400 associates and operates two manufacturing facilities in Chattanooga and one in Las Vegas
– NPG's end-to-end solution provides creative, design, printing and finishing solutions for POP display materials, backed by an industry-leading SaaS platform
– RockTenn, with a market capitalization of over $7 billion, is one of North America's leading integrated manufacturers of corrugated and consumer packaging as well as merchandising displays
For more information, please visit www.tmcapital.com/transactions.
What Our Clients are Saying

"TM Capital's marketing services industry expertise and tireless, client-first focus were on display from day one of this transaction process. The team at TM understood NPG's value drivers immediately and guided our management team through a transaction with a strategic partner that will be able to leverage NPG's creative, production and technology offerings across its broad platform while providing our associates with an exciting new growth opportunity." 



– 

Phil Harris, CEO, NPG, Inc.


"We made the decision to hire TM Capital based on the team's clearly articulated industry insight and unique understanding of NPG's value proposition relative to the marketing services ecosystem. We relied heavily on their wealth of experience in structuring and negotiating complex transactions. TM was an exceptional partner that utilized creativity, dedication, industry expertise and senior attention to help us exceed our objectives. We look forward to working with TM Capital on future opportunities."


– Bud Applebaum, Partner, Wingate Partners

About TM Capital
TM Capital Corp. is a partner-owned investment banking firm based in New York, Boston and Atlanta, which has completed over 250 transactions with a combined value in excess of $16 billion.  Since 1989, we have advised clients navigating a full range of critical transactions, including complex mergers, acquisitions, debt and equity financings, minority and majority recapitalizations, restructurings, and advisory services including takeover defense, fairness and solvency opinions, valuations, as well as litigation support.  We have built deep industry expertise in key sectors and our team regularly publishes research highlighting current and emerging trends in targeted industries and markets.  TM Capital is a member firm of M&A International Inc., the world's leading alliance of mid-market investment banks with over 650 M&A professionals in 42 countries.  Members have closed over 1,400 transactions totaling more than $75 billion in value over the past five years.