TM Capital Awarded ACG Champion's Healthcare/Pharma Deal of the Year
June 2018 | News & Press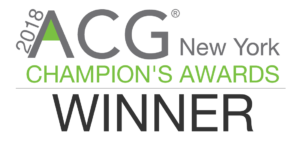 TM Capital is pleased to announce that we have been awarded the Healthcare/Pharma Deal of the Year for the acquisition of GMD PharmaSolutions by McKesson Corporation.  The awards were presented at the 8th Annual ACG New York Champion's Awards gala at the Metropolitan Club in New York City.  ACG New York and The M&A Advisor host this annual tribute event to recognize and honor the leading middle-market transactions, firms and dealmakers within the local ACG community responsible for supporting middle-market growth in New York.
TM Capital served as exclusive financial advisor to GMD PharmaSolutions in its sale to McKesson Corporation.  GMD PharmaSolutions, a portfolio company of Hammond, Kennedy, Whitney & Company, Inc. ("HKW"), is a leading provider of specialty pharmaceuticals and related services based in Oakville, Ontario.  GMD is a market leading supplier of specialty ophthalmic pharmaceutical products requiring cold chain expertise to Canadian clinics.  Click here for information about this transaction.
According to Glenn Scolnik, GMD Chairman and HKW Senior Partner, "TM Capital's healthcare services industry knowledge, experience, and relationships were instrumental in completing an attractive transaction for GMD.  In hiring an investment bank, we sought a team that could best articulate GMD's value drivers – TM exceeded our expectations in crafting a compelling investment thesis, and then engineering an extraordinary outcome with a global strategic buyer that will support management's growth initiatives.  HKW appreciates the senior commitment, expertise and collaborative approach that TM has brought to our transactions for more than 25 years."
The full list of 2018 ACG New York Champion's Awards winners can be found here.