TM Capital Wins Cross Border Deal of the Year & Business Services Deal of the Year
June 2016 | News & Press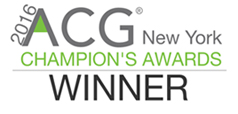 New York, NY – June 16, 2016 – TM Capital is pleased to announce that we have been awarded the Cross Border Deal of the Year for the acquisition by Nomura Research Institute (NRI) of Brierley+Partners and the Business Services Deal of the Year for the acquisition of MC Sign Company by Caltius Equity Partners . The awards were presented at the 6th Annual ACG New York Champion's Awards gala at the Metropolitan Club in New York City. ACG New York and The M&A Advisor host this annual event as a tribute to the outstanding achievements of professionals in the middle market M&A industry.
TM Capital served as exclusive advisor to NRI, a $3 billion global IT solutions and consulting services provider based in Tokyo, in its acquisition of Plano, Texas-based Brierley+Partners, a leading provider of loyalty and marketing solutions. TM Capital assisted NRI in establishing an acquisition strategy, identifying and contacting potential acquisition targets and evaluating various targets in the Retail IT solutions sector. Click here for more information about this transaction.
TM Capital served as exclusive advisor to MC Sign Company, the preeminent national asset light facility services platform in the sign and lighting trades, in its sale to Caltius Equity Partners, a Los Angeles-based private equity firm with over $800 million of capital under management. MC Sign is a trusted facility services partner for national blue chip customers in the retail, quick serve restaurant, convenience store, financial services and hospitality markets. Click here for more information about this transaction.
About TM Capital
TM Capital Corp. is a partner-owned investment banking firm based in New York, Boston and Atlanta which has completed over 275 transactions with a combined value in excess of $17 billion. Since 1989, we have advised clients navigating a full range of critical transactions including complex mergers, acquisitions, debt and equity financings, minority and majority recapitalizations, restructurings, and advisory services including takeover defense, fairness and solvency opinions and valuations. We have built deep industry expertise in key sectors, and our team regularly publishes research highlighting current and emerging trends in targeted industries and markets. TM Capital is a partner firm of M&A International Inc., the world's leading alliance of mid-market investment banks with over 650 M&A professionals in 40 countries. Our MAI team has closed over 1,400 transactions totaling more than $75 billion in value over the past five years. For more information, visit www.tmcapital.com.